Following is some generalized information a person might need if they are planning to purchase a Big Island condominium; whether it be a Kailua-Kona condominium, a Keauhou-Kona condominium, a Waikoloa Village condominium or a Kohala Resort condominium or even a condominium in Hilo town.
Many people ask, "Can I break even on this condominium?"  Whether a condo will break even after expenses depends on the size of the down payment you make.  That's because mortgage interest will be your biggest expense.  No one has a crystal ball, so I can't say for sure that you are going to make a profit, go in the hole or break even every month.  But my clients past experience indicates, that for condos under $300K, you need to put down at least 30% to 40% to just break even. This is something you should have an accountant figure out for you.  Since rents don't go up proportionately with the cost of a condo, more expensive condos would require a larger down payment.  Paying cash for a condo would provide you with the best chance to attain a monthly income from a vacation rental condo.  After that it would depend on how many days you used it yourself, what complex it's in, the location within the complex, how good your property management company is and, most importantly, how much effort you yourself put in to keep it rented!  What you can actually charge in rent for your unit will depend on whether it's a studio, one two or three bedroom, what complex it's in, how close to the ocean it is and how great the view is.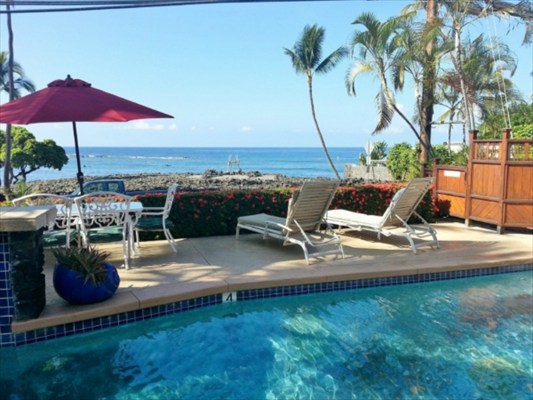 There are other ways a vacation rental condo pays you.  One is depreciation.  It's a business, so your accountant can take depreciation.  And the value of the furnishings can be depreciated at an accelerated rate.  Plus, even if you have to put a few hundred dollars in every month, name me another way that someone else pays $500 to $1,500 or more of your expenses every month.  As an example, let us say you took out a  $250,000 mortgage on your present home, and used that money to buy stock.  You would have to make that entire mortgage payment yourself; the stocks aren't going to make the payments for you.   But if you take out a mortgage on a vacation rental, the vacation renters are paying a portion, if not all, of your monthly mortgage costs; thus adding to your equity in the property.  So even if you sold the unit for what you paid for it, you would still take out some profit in the form of the accrued equity over the years.  But odds are, over the long haul, that whatever you purchase in Kona, Keauhou or Kohala now, will be worth more someday.  Over the last 50 years prior to the current financial crisis, even though the market fluctuated up and down every ten years or so, in the long run, prices have steadily increased.  Since the mortgage meltdown of 2006, condo values are almost what they were prior to the crash.  Many people are hopeful that there will be an additional profit from the appreciation on their condo property someday.
Expense other than the mortgage interest incurred from a vacation rental condo can include the monthly AOAO (Association Of Apartment Owner's) maintenance fees, condo owner's insurance, vacation rental management fees, advertising, incidental repairs and property taxes.
Vacation Rental Management
Vacation Rental Management for your individual unit is done by a company you hire for this purpose.  Some complexes have on-site vacation rental management available, usually by a franchise resort company like Castle Resorts or Outrigger.  But for most condo complexes you will have to choose from one of the 40 or so off-site companies listed in the phone book (or from a Google search).  For off-site management, commission costs can range from 20% to 35% of the total gross in bookings.  The Vacation Rental Management company hires the cleaners between tenants but sends the bills to you for payment.  Some companies may pay the cleaners but the commission is then higher.  That's why it pays to interview several different companies.  On-site management usually takes 40% to 50% of the gross but includes daily maid service just like a hotel.  Because on-site management companies can rent by the day, even though their commission is higher, your monthly net can be about the same as it would be for off-site management.  Your rental manager should also take care of emergencies inside the unit like a burned out microwave or stopped up toilet, and bill you for the cost of repair, etc. They earn their percentage by advertising your unit, booking it, making sure the tenant gets keys and they get the keys back, keeping records of bookings and sending you checks for your share less expenses.  Advertising is Vacation Rental Management's biggest contribution.  They need to have a great web page and advertise on all the big vacation rental websites.
Resident Manager
Some complexes have a Resident Manager.  This is a person who usually gets free rent at the complex so he can oversee the goings on and make sure no one breaks the rules, etc.  He may do light maintenance or gardening, field complaints, answer phone calls and generally make sure things run smoothly around the complex.  He doesn't collect rents or deal with your vacation renters except to tell them to quiet down after 10PM and stop their kids from running around the pool.
Rental Pools
Speaking of pool, as discussed above, some complexes have national or international hotel chains running a front desk.  Individual unit owners who do not want to contract with their own Vacation Rental Management company can simply sign up with the in-house vacation management company.  If you get only the rent that your personal unit pulls in, then you are NOT in a rental pool.  A true rental "pool" is when ALL the rents from ALL the units are "pooled" and then divided evenly among all the pool members.  As far as I know, only Kona By the Sea is operated as a true rental "pool".  The Condominium Association By-laws at Kona By the Sea requires all owners to join the pool and forbids them from hiring outside vacation rental management.
Condo Documents
When you purchase a condo, or any property for that matter, you have time to investigate all pertinent facts (usually two weeks).  For a condo, within the first 10 days of escrow, you will receive all the condominium documentation including minutes of the last couple of meetings of the Association and Board of Directors, the reserve study and all the public reports, house rules, insurance summary, etc. You then have a week to go over this material, show it to an attorney if you like, and decide if you want to go ahead with the purchase.  If you decide not to proceed, then the escrow is canceled and you get your deposit back.